It took 18 months to complete in sharp contrast to Nepali movies these days that, get packed up within one-two months of shooting. The movie "I am Sorry" is an important movie to determine the future of its actors, actress, script writer and the director in their film career. The movie featuring Aryan Sigdel and Keki Adhikari in the lead role was released on February 10, 2012 in theaters across Nepal.
Story:
"I am sorry" is a love story of Gaurav (Aryan Sigdel) and Shruti ( Keki Adhikari). Shruti comes from a rich family and is responsible of her family business. Shruti found the pressure of her family business and high class society life overwhelming. So, she runs away  to a new place to live a normal life. She meets Gaurav, an innocent taxi driver, who helped her to settle in the new place. Both fell for each other in a short time span. But, they hadn't talked about their feelings to each other. On a day they planned to meet and talk about it, Shruti's father arrives and takes her back. At the same time, a gang kidnaps Gaurav too. You might not want watch all the ups and downs of their love story in the theater.
Strengths and Weakness:
Director Dinesh Raut's done a justice with his debut movie, "I am Sorry". He has presented the story in a good way although at times he has missed bringing out the best from the actors. The first half is interesting and smooth way on although some of the scenes seem unrealistic. For example, It is unrealistic to see the children of remote parts using English language with a taxi driver, in a show for orphanages showing love story drama. 
Earlier, the writer of this movie Pradip Bhardwaj had said that this movie doesn't resemble any Bollywood or Korean movies. One can't deny that Bhardwaj has written a short and sweet love story.Purshottam Pradhan's camera work is also appreciable. He has been successful in capturing beautiful scenes of hilly areas of Nepal.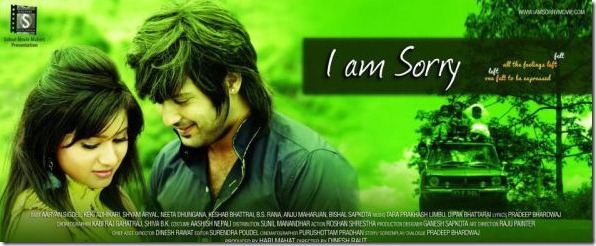 Music by Tara Prakash Limbu is another strength of the movie. Songs are melodious and wonderful and move along with the flow of the movie. Although songs won't let you feel bored, a commercial song (item song) would have been a nice addition. Such a song could have been a vehicle to attract more youths to the theater.
Actors:
Aryan Sigdel, known as a lover boy of Nepali film industry, has an important role in the movie. But, Aryan's performance is not up to the expectation. It has been 3-4 years since he has been doing such lover boy characters and this one is no different. In the second half, all of Aryan's roles are very weak. Sometimes he seem to be reading the script in front of the camera. Aryan's performance can hence be considered one of the major weakness of the movie.
Keki Adhikari had justified the role of her character with a nice performance. She has done very well in different roles like a businessperson, a lover and an innocent girl.  Shyam Aryal's short and sweet role is also appreciable. Keshav Bhattarai's role is also strong and he has done very good job, as usual.
Summary:
In a whole, "I am sorry" can be considered a positive step in Nepali film industry. We have seen many love story movies fail in recent days due to lack of good contents. This movie might change it as it has got good story, nice way of story telling, good music, wonderful locations and beautiful sceneries. The first half of the movie is sure to win the heart of audiences. Although, this movie might not do as well as the recent blockbuster 'Loot', the movie is expected to do a good business.