The Valentine Day is the most attractive time to release a love story movie. Actress Namrata Shrestha's most awaited movies 'Megha' and 'November Rain' are scheduled to release on the February 14 of 2014. Although 'Megha' was previously scheduled to release on January 31, now it is re-scheduled for the Valentine Day.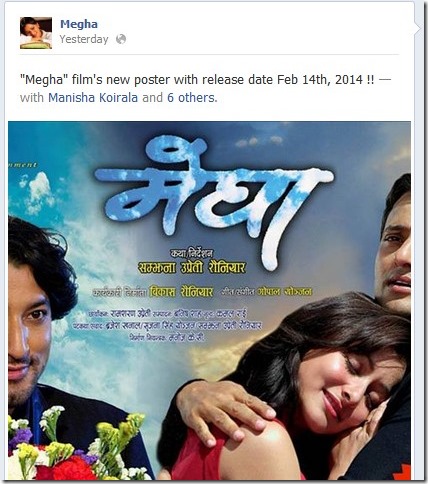 Releasing two movies of the same actress might not be a good business sense to either of the producers. That would cause in the division of viewership between the two movies.
'Megha' is the debut directorial venture of a female director Samjhana Upreti Rauniar and 'November Rain' is also a debut production venture of popular actor Aryan Sigdel. Re-creation of Gopal Yonjan's music in 'Megha' and the introduction of Manisha Koirala's brother, Siddhartha Koirala in Nepali movie are some of the positive aspects of 'Megha'.
'November Rain' features the romance of Aryan Sigdel and Namrata Shrestha. Another actress, Chhulthim Gurung will also be featured in the movie. The shooting of the movie completed on the December 1st at a monastery in Chauni. The movie is directed by Dinesh Raut.
That's not all, another awaited movie featuring ex-Miss Nepal Malina Joshi is also releasing on the same date. The movie named 'Ritu' features Raj Ballav Koirala, Reema Bishowkarma, Bishnu Neupane, Malina and others in main roles.